[vision_one_half]
RICHARD HYDE
Richard was born in Plainview, Texas. After graduating from Oral Roberts University, he lived in Europe and Asia for five years, planting congregations among indigenous believers. He then studied at the Institute of Holy Land Studies where he completed the course work for a master's degree in Middle East Studies, with an emphasis in Islam. After returning to the US he met his lovely wife and moved to San Antonio, TX. He was the founding elder and Torah teacher of Beth Simcha Messianic Congregation in San Antonio from 1990- 2000. In 2000 the L-rd called us to move to Germany to work in a reconciliation ministry between Germans and Jews. Miraculously the L-rd called us to make Aliyah from Germany. After arriving in Israel we lived on Mount Carmel in Haifa, but during the war in 2006 we moved to a small village near Tiberius.
Richard and Carolyn have helped to plant and build up congregations in the Land. Currently, Richard is leading Heart of G-d Ministries into a new season of sharing Messiah online through the social media. We work with our sons making outreach videos that are touching the hearts of Israelis and people throughout the world. The Isaiah 53 video has already reached over 10 million people, 1.5 million of whom are Israeli.
[/vision_one_half]
[vision_one_half]
CAROLYN HYDE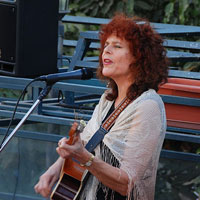 Carolyn Margolin-Hyde was raised in an Orthodox Jewish synagogue near Chicago. She graduated from University of Illinois and as an RN she practiced nursing for many years.
After making Aliyah Carolyn served as worship leader at K'tsir Asher, The Harvest of Asher Congregation, in Akko, and then led worship at Kehilat Poriya, a congregation near Tiberius. She has written and recorded many worship songs in English and Hebrew and her worship CD's include "Just Like Joseph" and "The Latter Rain"- contemporary worship CDs; "Deep Calls to Deep" – a soaking CD; and "Fine Linen" – worship with a touch of the blues.
Click Here to go to the Music Page
[/vision_one_half]
Worship

Ministry in Israel

Ministry in Germany

Living Stones Experience